A few weeks ago we discussed how Arsenal were showing transfer policy shift with Taveres and Lokonga pursuit.
The impending signing of Ben White – just 23 – is a continuation of this policy.
With Gabriel also just 23 and Kieran Tierney 24, Edu is clearly building a defence for the future.
Depending on who is singed at right back to replace Hector Bellerin, Arsenal will be starting the campaign with one of the youngest back 4's in the league – but also a back 4 with plenty of experience despite their ages.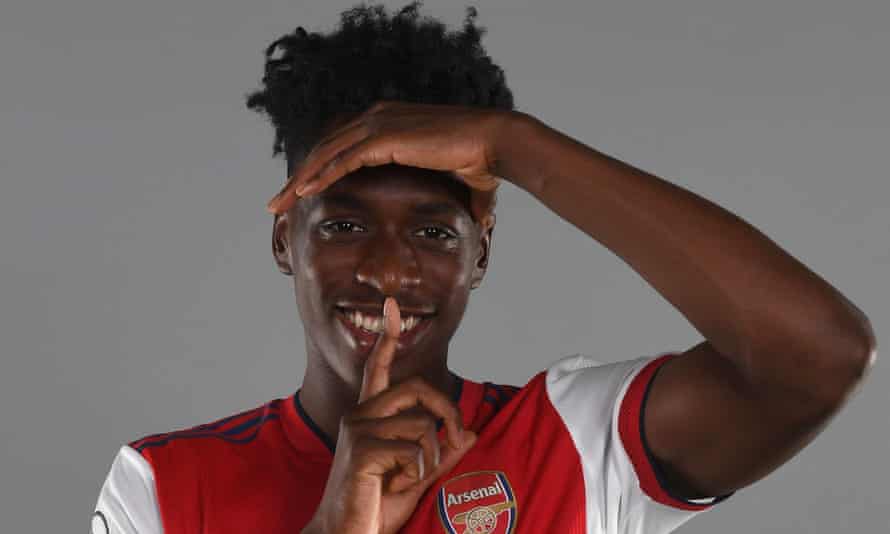 For a long time, Mikel Arteta has taken flack from some quarters for "hating youth."
This criticism has always baffled me when you consider the game development of both Bukayo Saka and Emile Smith Rowe in the last 12 months.
Against Southampton in December, Arteta put out a starting XI which averaged just 24 years and 349 days old, the youngest starting XI for the Gunners at the Emirates in a Premier League game since September 2012.
In the last 6 months, we have seen new contracts for Gabriel Martinelli, Bukayo Saka, Kieran Tierney and Folrian Balogun. Smith Rowe is on the verge of a new deal and Taveres and Lokonga have joined the club.
Add in the incoming Ben White and trust in Gabriel, that is 9 players aged 24 or under who all have their long term future at Arsenal secured.
The majority of criticism towards Arteta for "destroying young players" seems to come from those who have an unhealthy obsession with Matteo Guendouzi and William Saliba.
Arteta did not destroy Guendouzi. Guendouzi destroyed Guendouzi.
An ego too big for his age and talent, he has issues at L'Orient, issues under Unai Emery, under Freddie Ljungberg and when out on loan at Hertha Berlin last season.
He is 22 going on 8 with his child-like clown behaviour, strops and attitude.
As for Saliba, Marseille manager Jorge Sampaoli has told him that he has "a lot to improve".
The feeling at Arsenal is that Saliba is a fantastic natural talent but at just 20-years-old is not ready. That he needs game time to progress but is best off getting those minutes elsewhere out of the limelight where his mistakes will not be highlighted as much.
Those criticising Arteta than clutch at straws by bringing up Reiss Nelson and Folrian Balogun.
There are some fans that believe players "should get a chance" regardless of the situation and what they have shown.
For Nelson to have got more of a chance with Arsenal, he would have been starting ahead of either Nicolas Pepe or Bukayo Saka on the right hand side.
The fact is just as Nelson was gearing up for his chance, Saka burst on the scene, overtook him and is 2 years younger.
Saka is simply better than Nelson which is why he is starting ahead of him.
As for the Nketiah / Balogun debate; it is interesting that the people who criticise Arteta for not giving youth a chance are then criticising Arteta for giving Nketiah a chance.
It almost feels like they dismiss the young players that Arteta gives a chance too, whilst supporting those he has not yet. As if there is another agenda at play which has nothing to do with Arteta and his policy on youth players, but Arteta and the players he has not given a chance too yet.
Ideally Arsenal wanted Balogun to sign earlier so that he could spend 6 months on loan like Nketiah did with Leeds. The lack of signature on the contract meant that could not happen.
And regardless, last season Nketiah played just 415 minutes of Premier League football whilst Balogun sat in his contract dispute.
Arsenal have 2 fantastic strikers in Aubameyang and Lacazette; so even without Nketiah, Balogun would have got very little game time.
And even if he got more game time, you feel those moaning would complain that it was not given to Martinelli. Likewise I bet if Nelson got game time some would moan why that was not given to Omari Hutchinson.
I have even seen some use Miguel Azeez as another example of Arteta "not giving youth a chance".
Azeez is just 18 years old and only stepped up from U18 to the Premier League 2 last season.
This is where some fans want their cake and eat it.
They will demand Arteta plays a kid, and then if he plays and gets injured they will say he played too much too young. Why not just let a player develop at his own pace?
In the last 6 months Arsenal have lowered the age of the squad, changed the clubs transfer policy and secured our best young talents on new long term deals.
How about we end the discussion on the way Arteta treats young players and just back the kids he backs?
Keenos