Bukayo Saka. Arsenal's "Starboy".
His rise in the last two years has been astronomical.
From a youngster given the chance in the Europa League to one of the first names on the team sheet and England regular.
He was one of the stars for England in the summer, and fans beyond Arsenal fell in love with the unicorn riding sweetheart.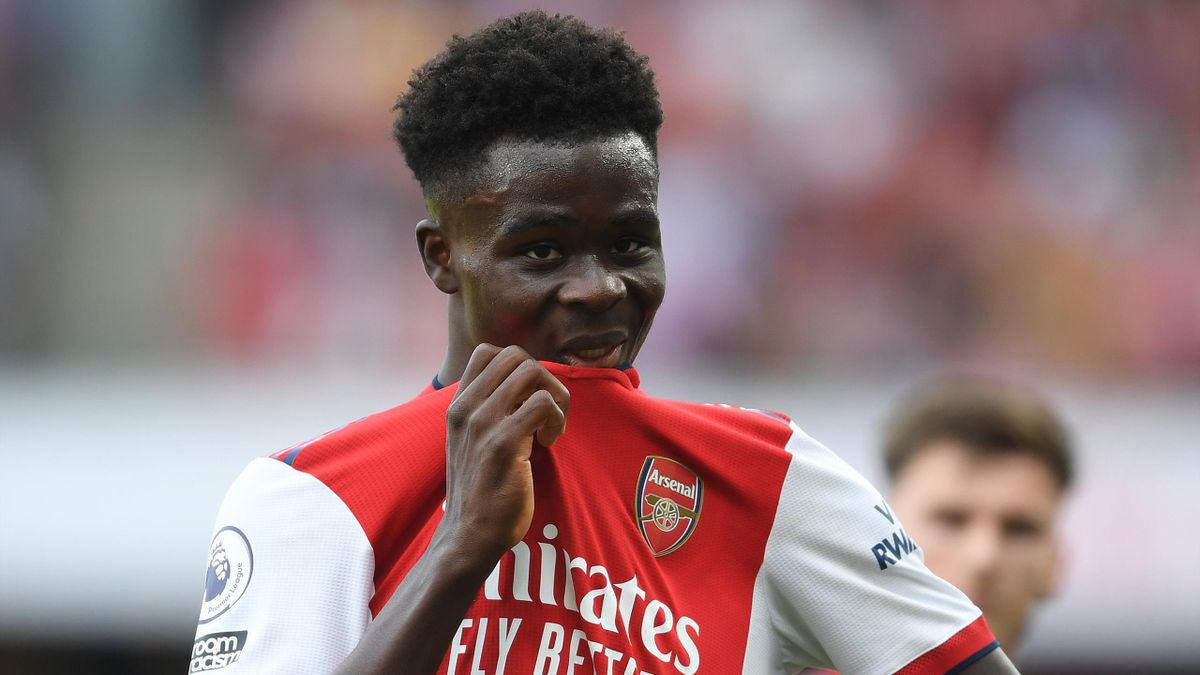 A popular young man within both the England and Arsenal squad, his rawness, fearlessness and that smile won the hearts and minds of both club and national fans.
Big things were expected of him this season as he progressed from youngster with potential to global superstar. But his start to the season has been a bit of a damp squid. Underwhelming.
In his 7 appearances this season, he is yet to register and assist and his sole goal came against WBA in the League Cup.
He is touching the ball less than he did in previous seasons. Less passes, less key passes, a lower pass completion ratio. He is also dribbling less, not running at opponents as much.
So why is Saka struggling?
Still a young man
It has to be remembered that Saka is still just 20-years-old. He is still a young man making his way in the game.
Players have dips in form. Even world class players like Pierre-Emerick Aubameyang.
Dips in form are even more common in younger players, which is why it is important not to get on their back when they have a tough spell.
It is times like now he potentially needs an arm around him. Taken out of the limelight a little. Rested.
Whilst the tabloids would read Saka as being rotated out of the team as "Saka dropped", it would actually be a physical and mental breather. Something he has not really had in the last 2 years.
Euro 2020 hangover
Saka was sparkling during the 2021 tournament – playing ahead of much senior players. But his competition ended in sadness as he missed the crucial penalty that led to Italy winning.
That penalty led to some horrendous racial abuse across social media from fans across the globe.
No one deserves the abuse he, Marcus Rashford and Jadon Sancho got. And at just 19 he should have been protected.
And he did get protected. Fans came out in support of the trio. England did. The FA did. Arsenal did.
Whilst the smile is still on his face, we do not know if the abuse has affected him deeper. Has hit his self-confidence. He is a smart young man and will come out the other end a mentally stronger player. But for now his mind seems a little off.
No real pre-season
Saka came on in the 63rd minute of the Tottenham pre-season game. It was almost a month after Arsenal had started their pre-season games.
Due to the Euro's, he did not get the pre-season that many of his team mates did. Nor did he get the break following 2 almost back to back seasons.
Saka is not the only England player struggling for form.
Harry Kane is yet to register a goal. Raheem Sterling scored just once. Phil Foden yet to start and Jadon Sancho yet to contribute much to Manchester United.
Despite his lack of break and pre-season, Saka has played a part in every Arsenal game this season.
Last season only Bernd Leno played more game – Saka appeared in 46 of the clubs 58 games. He also played 7 games for England.
Add in the season before where he became rarely missed a game after breaking through in September. He has gone from not even being in the match day squad to playing 95% of games.
Did Arsenal bring him back from pre-season too early? Knowing that we had two tough games against Manchester City and Chelsea in the first 3 games, should we have given him more of a break and only bought him back into the first team after the first international break?
Arsenal have not started great
We are now 3 wins from the last 3 games in all competitions. But we started the season with 3 Premier League defeats.
It would be completely unfair to blame Saka for those 3 defeats. No Arsenal player covered themselves with glory in the opening 3 games.
Senior players like Pierre-Emerick Aubameyang and Nicolas Pepe started poorly; and both had a proper pre-season. Not one Arsenal player can put his hand up and say he played well against Brentford, Man City or Chelsea.
The victories over Norwich City and Burnley were also not particularly great performances.
Hard fought 1-nil wins where non of the attacking players covered themselves in glory.
Saka's poor form is simply mirroring Arsenal's current struggles.
The future
There is no doubting Saka's talent.
Perhaps unfairly some have compared him to Adnan Januzaj who looked OK in a poor Manchester United team but then failed to kick on. Their fans overhyped his average performances.
Saka has certainly proved for Arsenal and England that he is more than just a hyped up youngster. But he now does have to kick on.
Nicolas Pepe is often singled out by Arsenal fans for criticism. Mainly due to his price tag.
Last year the Ivorian scored 16 goals, and assisted 5. Saka scored just 7 with 9 assists.
Saka does need to improve his output and start producing similar figures to Pepe.
The problem is Arsenal are perhaps relying too much on the performances of a just-turned-20 year-old.
It is the likes of Aubameyang, Pepe and Alex Lacazette that need to step up and produce the goods. That will then allow less pressure and expectation to be on the shoulders of Saka.
Saka will regain his form soon. I am sure of that.
There is an international break coming up in 2 weeks. Personally I would like Southgate to not select Saka – and him also not be called up to the U21s. Give him 2 weeks without a game. Let him have a completed break from thinking about football for the first week. Go away somewhere to relax and recharge.
The reality is he will be picked by Southgate, and will continue to be over relied upon and over played by Arsenal.
The lad needs a break from football but might not get it until next summer.
Saka is still Arsenal's starboy. He just needs a break.
Keenos